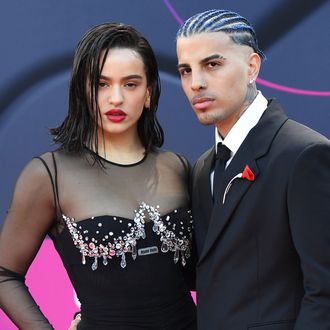 Rosalía and Rauw Alejandro.
Photo: Denise Truscello/Getty Images
We'll always have "Beso." Rosalía and Rauw Alejandro have ended their engagement after a three-year relationship, according to a People exclusive. Many first guessed that they were an item in August 2021, and the pair went on to hard-launch their relationship on social media a month later. Flash forward to March of this year, and Rosalía and Alejandro confirmed their engagement in the lead single "Beso," off their joint album, RR. The album title comes from the initials they share (Alejandro's last name is Ruiz). Together, they performed that song and the other single "Vampiros" to the delight of a massive crowd at this year's Coachella. Rosalía also has a tattoo with those initials on her foot, while Alejandro has a tattoo of Rosalía's full name above his navel — facts that they both revealed in early 2022. Despite agreeing to end their engagement, they still have love and respect for each other, sources told People. More importantly, though, this is the third couple who have participated in the GQ Couples Quiz to call it quits after Saweetie and Quavo and Kylie Jenner and Travis Scott — could the program be cursed? Past and future participants, remain vigilant!